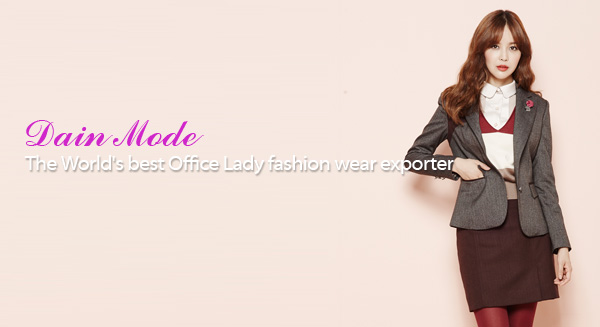 Official Circular Letter
Dear Sir/Madam

We, DainMode specialize in manufacturing Office Lady fashion wear in Korea and have sold our products to many Companies in Korea since 2006 such as Financial institutions, Government offices, Hotels, and other service providers. Our products include jackets, blouses, vests, skirts, pants, upper uniforms, functional T-shirts, cardigans, and knits. We are proud of high quality and designs of our products and good reputation in Korea.

The functional fabrics from such diverse fibers as polyester, rayon, and high-stretch materials are used in our products. The Fashion uniforms for spring and summer seasons adopt polyester high-stretch fabrics that feature cool, quick-drying, and high sweat-absorbing properties, while uniforms for winter season use mixed fabrics of polyester and rayon that resists creases while giving an elegant look.

We are also developing various designs that provide wearers with comfort and a refined appearance. Our products not only permit comfortable wear but also boast of pretty designs; furthermore, they are water-washable so as for users to handle them efficiently.

We have daily maximum capacity of 100 pcs which undergo strict quality inspections by Quality Inspection Department equipped with various inspection and testing instruments. We have also secured price competitiveness through accumulated experience and technology and cost-down activities.
We will make every efforts to meet the needs of our partner companies and grow into a global apparel company.
Our e-catalog is attached which includes more detailed information about our company and the whole product line. For more detailed information, you can refer to the link:
www.dainmode.com
We eagerly hope to deal with you and are looking forwards to hearing from you soonest.