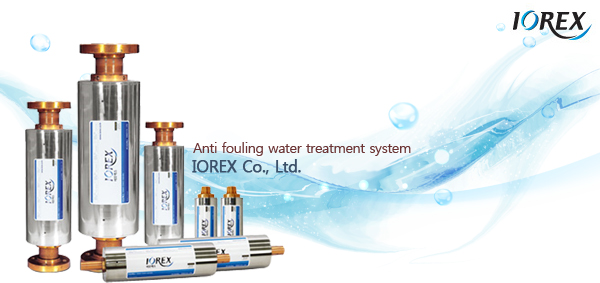 Official Circular Letter
Dear [#-CONTACT_NM-#]
IOREX produces the live water as the world's best no-power water treatment system which is developed by IOREX Co., Ltd.

IOREX effectively removes and prevents rust and scale by instant ionizing watr that through a water supplying system.

This is the most natural and environment friendly water treatment system that also helps living things grow and keeps them healthy by activating water.
Basic Principal

When water passes the IOREX, static electricity arises due to friction on the contact surface. And when the electrical charge goes up by absorbing the static electricity it emits the outer nuclear electrons and becomes charged. Then, a strong static electricity field is created via the transfer of the electrical charge and when water passes through the static electricity field it gets instantly ionized.

Performance and Results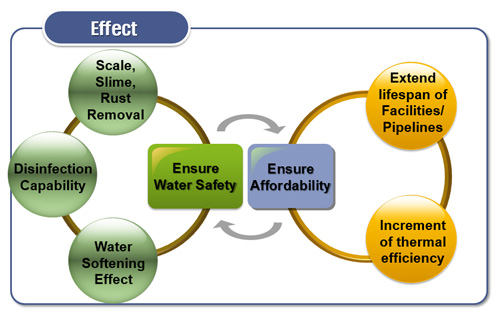 ●
Specification

Type
Model
Pipe Diameter
Length
outside Diameter
Weight
Effective Range
inch
mm
inch
mm
inch
mm
pound
kg
yd
m
SCREW
IOR-APT
1/2
15
8.3
190
2.5
60
5.5
2
196
180
IOR-15
1/2
15
17
410
3.5
90
11.4
5
251
230
IOR-20
3/4
20
18.5
410
4
105
17.8
6.5
317
290
IOR-25
1
25
20.5
520
4.5
120
19.8
10
382
350
FLANGE
IOR-32
1

1/4

32
21.5
580
5
140
30.8
16
514
470
IOR-40
1

1/2

40
21.5
580
5
140
48.5
21
634
580
IOR-50
2
50
23.5
580
6
170
66.1
33
929
850
IOR-65
2

1/2

65
27.5
640
6.5
210
99.2
45
1,050
960
IOR-80
3
80
27.5
700
7
220
132.2
60
1,257
1,150
IOR-100
4
100
29.5
750
7
265
198.4
90
1,476
1,350
IOR-125
5
125
29.5
750
8
320
253.5
117
1,695
1,550
IOR-150
6
150
29.5
750
13.
320
341.7
150
1,914
1,750
IOR-200
8
200
30
775
16.5
405
496
230
2,296
2,100
IOR-250
10
250
30
775
18
455
639.3
290
2,570
2,350
IOR-300
12
300
30.5
775
19
475
661.3
307
2,788
2,550
IOR-350
14
350
31.5
800
20
520
771.6
327
3,280
3,000
IOR-400
16
400
31.5
800
24
600
837.7
370
3,609
3,300
IOR-500
20
500
31
800
28
711
1,565.2
710
4,374
4,000
IOR-600
24
600
33
850
33
850
2,204.6
1,000
4,374
4,000

IOREX tries to make more affluent life style of the human being which makes better environment with one step forward idea.
If you are interested in our products and needs more information please feel free to contact us
Kind regards

Best regards,

David kang/Production Planning Manager

IOREX Co., Ltd.

Head office : 51, Biseongnal-ro, Deokjin-gu, Jeonju-si, Jeollabuk-do, 54855, Republic of Korea

Website :

http://www.iorex.co.kr

E-mail :

iorex@iorex.co.kr

Tel : +82-63-214-6977

Fax : +82-63-214-6976
IOREX Co., Ltd.
51, Biseongnal-ro, Deokjin-gu, Jeonju-si, Jeollabuk-do, 54855, Republic of Korea
http://www.iorex.co.kr